Click on the play button to watch the interview with Roger Higgins, author of the novel "Billy Gogan –  American".
Scroll down to get a copy of this book and start your adventure.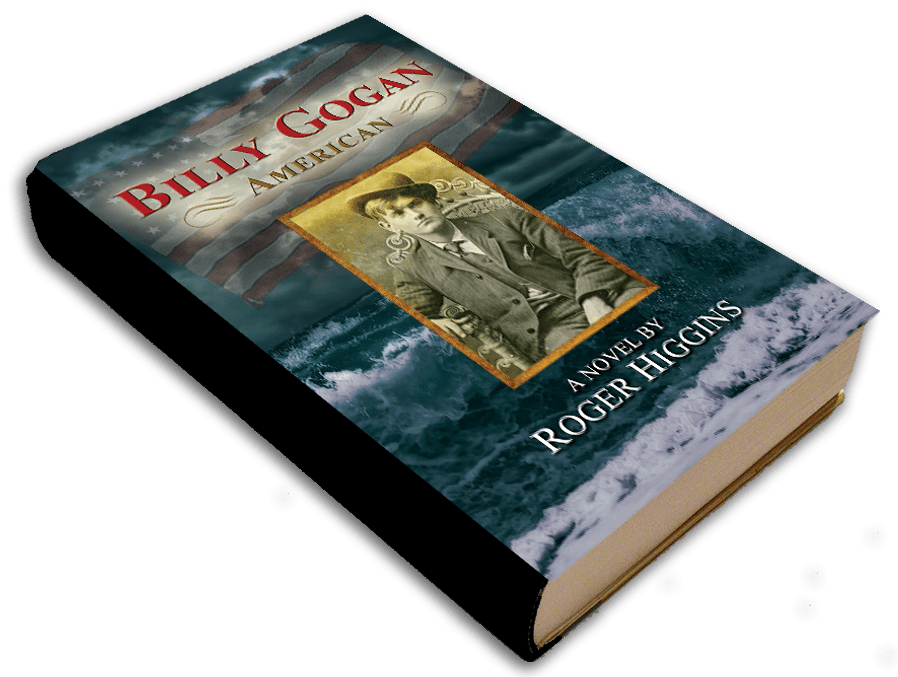 Get Your Copy of Billy Gogan
"Billy Gogan – American" is now available in paperback and Kindle on Amazon.
More of Billy's adventures are coming soon!
Book 2 in the series will be available in Fall 2018.
The next installment in the Billy Gogan series is coming soon!
In Billy Gogan: Gone Fer Soldier, Billy continues his adventures as a newly enlisted soldier. Navigating military politics, gambling, and relationships across Texas, California and Mexico, Billy grows into a young man while a war develops. Preorder your copy now on Amazon

Listen to some Interviews with Author, Roger Higgins: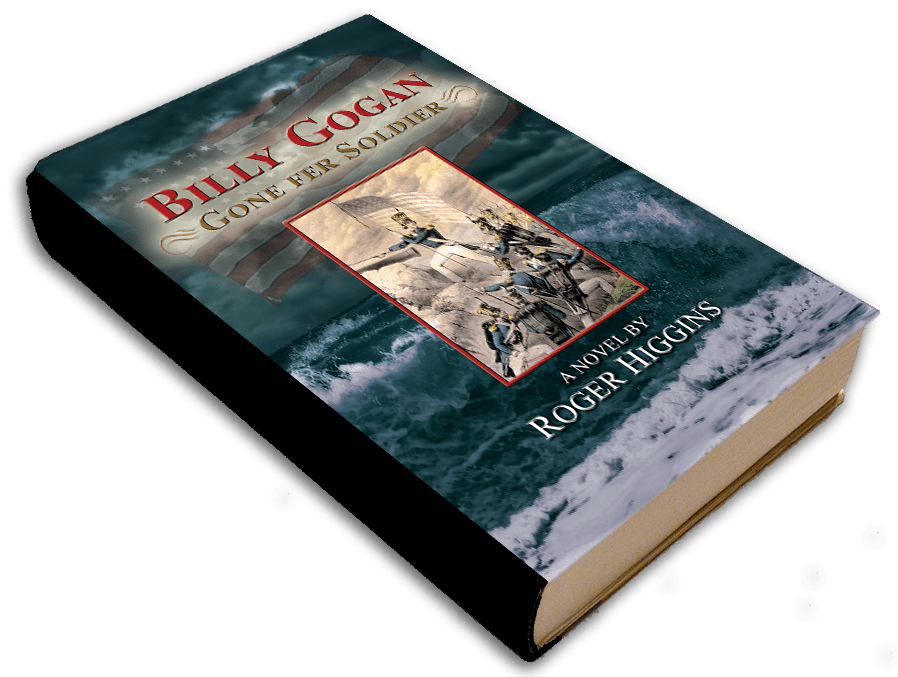 Roger Higgins YouTube Interview
How it all began…
Ireland on the eve of the Great Famine. Billy Gogan's father has just died in a British prison, and Billy has been cast from cousin Seamus's house and forced to make his way to America. Billy and his traveling companions, a destitute Irish peasant woman named Máire and her daughter Fíona, endure the harsh passage to Gotham, America's greatest city. Their ship nearly founders during a great storm and later is forced to pick her way through a great forest of icebergs…
Billy Gogan
In 1915, at the age of 85, Brevet Major General William P. Gogan, USA (ret.), dictated his memoir of his youthful adventures to a beautiful woman with a fair hand.
Niall P. Gogan
Billy Gogan's father, dead from gaol fever in Richmond Gaol, where he was imprisoned by the hated Sassenagh for daring to dream of Irish independence.
Mr. MacGowan
A short man dressed head-to-toe in a quite funereal black who visits St. Patrick's School on the day Billy Gogan is "sent down" from school. He seems to dislike Billy Gogan very much. "MacGowan" means "son of the smith," which is similar to the meaning of the English name, "Smith." In the 19th century it was not unusual for Irish with the surname "MacGowan" who were emigrating to England or America to adopt the name "Smith" so as to hide their Irish roots.
Evelyn O'Creagh
Billy Gogan's cousin and the only daughter of Seamus O'Creagh, who has sent his colleen bawn to finishing school in England and aspires to have her marry well. Evelyn has given up the Irish name she was born with, "Eibhlin," and wishes to be known by the anglicized form, "Evelyn." She is the first girl to ever kiss Billy.
Father O'Muirhily
Billy Gogan's Latin and Greek master at St. Patrick's. He wants Billy to join the Church and fight for Irish independence as a powerful prelate.
Mary Skiddy
A young widow from Skibbereen fleeing eviction from the only home she has ever known. Christened "Máire," she too has anglicized her name to get along better in the New World.
Fíona Skiddy
Mary's daughter, whom Billy Gogan teaches to read.
Magee
A former pugilist, and rising star in Tammany Hall politics. Magee runs the most famous stepping ken in the Five Points, where the music is played with teas.
Bill Tweed
A young man on the make, some years before he becomes the Boss Tweed of Tammany Hall.
Black Muireann O'Marran
A widow who runs a riding academy. Her dead husband gave Magee his start in the saloon business.
Brannagh O'Marran
Muireann's only daughter, and the person most precious to her in all the world.
Explore the World of Billy Gogan
Interesting Facts
& Information
Here you will find some amazing information related to the adventures of Billy Gogan. Billy Gogan's adventure traverses multiple continents and introduces many local exotic places. Click on links to the right to discover some amazing facts about this wonderful story.
An Gorta Mór
The Great Hunger
Cecil Woodham-Smith, in her 1962 masterpiece, The Great Hunger, Ireland 1845-1848, sets the stage as well as anyone for the great tragedy that befell Ireland in the mid-1840s: "The potato of the mid-nineteenth century…
Read More
Mexican American War
The Struggle
In the United States, the Mexican-American War is half-forgotten and yet seminal, driven by expansionism and a sense of Anglo-Saxon superiority over all other peoples.  Whether to go to war…
Read More
The Repeal Year
A Forlorn Hope
To put it bluntly, Daniel O'Connell's quixotic attempt in 1842-43 to obtain greater independence for Ireland from Britain's suzerainity was doomed to failure from the start. That O'Connell's 1843 campaign did not end  …
Read More
The Five Points
America's first slum
The Five Points was America's first great slum, and by the mid-1840s it had become the most notorious slum in the world, aided in no small part by Charles Dickens's American Notes for General Circulation, which was published …
Read More
Chance of Survival

65%

Will He Find Fiona & Maire

78%

Will You Love This Book

99%