Meet Roger J. Higgins
The Author of the Novel "Billy Gogan – American"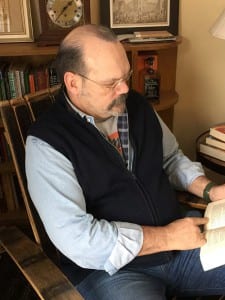 Roger J. Higgins and his wife reside in Chicago, Illinois, and they are immensely proud of their four children, one of whom is a serving U.S. Marine, and one of whom is Marine turned police officer (happily married to a wonderful high school chemistry and biology teacher).  Their daughter is a nurse, and she and her husband (a retired Coast Guard officer) are the proud parents of a baby boy.  Their youngest son is an aspiring doctor.  As Mrs. Higgins has patiently observed to her husband when he ruminates about the trials and tribulations of raising children, it was together that they went four-for-four with their children, hitting safely at every at-bat.  Not a bad day in the batter's box.
Roger was born in England, in the County Cheshire, where he learned early of the orange-striped Cheshire cat, which disappears, leaving only its grin, full of teeth and gums.  Roger emigrated with his parents and younger brother to the United States when he was 6 ¾.  When his mother registered him at the local elementary school, he saw fit to wear his English grammar school uniform, which looked a lot like Harry Potter's, except his cap was gray with purple piping and topped by a purple button, and he wore gray short trousers, gray knee socks and a purple clip-on tie with his dark gray blazer.  After his mother finished registering him for school, the principal gently asked whether he would like to leave the tie and cap with her for the day and pick them up after school.  Roger demurred.  He was fortunate enough to retain both tie and cap (which were never worn again) on the walk home from school.
At the advanced age of ten, Roger taught himself the art of swearing, a skill he found useful in his thirty-odd years of playing rugby, where he was noted for his stone hands, his lack of size for certain positions and lack of speed for all the rest.  As a young United States naval officer serving on a guided-missile destroyer many years ago with the lucky number "13" as her hull number (where he met some of the best friends a man can be lucky enough to have), he also learned, as did Captain Horatio Hornblower two centuries earlier, that sometimes having fifty-five oaths at your command can be entirely inadequate to the occasion.
Roger learned the art of leadership from his ships' commanding officer and executive officer, who together led the tired, old ship, which was a bit of a laughing-stock along the waterfront, to win the Arleigh Burke award as the best destroyer in all of the Pacific Fleet.  Roger served another fifteen years after that, having had during that time the privilege of being the fire control officer for the U.S.S. Missouri's 16-inch guns, and thus the only naval officer in the world (at that time) under the age of thirty proficient in the ancient—and wonderfully obsolescent—art of major caliber naval gunnery.
Roger became a lawyer after retiring from the Navy with a small pension fit to pay the property taxes.  After clerking for a Tax Court judge, who taught him the value of telling your story so as to win your reader to your side, Roger worked for a number of very large law firms, eventually becoming a partner at a firm with the grandest bankruptcy practice of them all.  Roger greatly admires the practice group leader's philosophy of practicing law, which is to get the best outcome possible for your client, never re-trade on a deal, and if you must stab someone, don't stab him (her) in the back; look the person in the eye and then stab her.  You'll be treated the same way, when the time comes.  Oh, and never sell your reputation.  Once sold, you can never buy it back again.
Roger continues to practice law at a much smaller and less grand law firm and to write novels to his own taste.  He is having a wonderful time doing so.
Watch the Interview with Roger Higgins